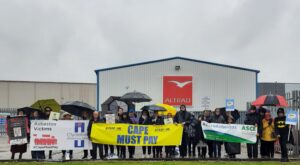 Mesothelioma is a terminal cancer caused by asbestos. A company called Cape was a leading manufacturer of asbestos products in the UK from the 1950s to the 1980s. Altrad is now Cape's parent company, and purchased Cape in 2017.
Our case against Cape
The UK Forum of Asbestos Victims' Support Groups (AVSGF), to which ASCE belongs, won a legal case in 2019 which forced Cape / Altrad to disclose documents which proved that from the 1960s, the company withheld evidence on the risks its asbestos products posed to human life. Families were torn apart when their loved ones died from exposure to Cape's asbestos products. They, unlike Cape, were not aware of the dangers, but had to go to work to provide for their families.
Cape fought the case all the way to the Supreme Court in a relentless and very expensive effort to keep the documents secret. However, the Court ordered the company to disclose the documents on the grounds that Cape's asbestos products were far more dangerous than they had previously admitted and the company should have agreed to hand them over for "public health" reasons .
Our attempts to negotiate
The AVSGF entered into negotiations with Cape/Altrad as part of a campaign to persuade the company that they should pay £10 million towards research into life-extending treatments for mesothelioma as a way of atoning for their actions and as a gesture of goodwill. We first made our demand in March 2022. Sadly, an agreement could not be reached, and consequently our campaign has restarted.
Our next protest on Monday 17 July
We are holding a protest outside the Cape/Altrad office in Warrington at 1pm on Monday 17th July 2023. Please contact us for details of how to join the protest.
How to find out more about what Cape knew
The AVSGF have placed the documents on their website to allow the public to have free access to them.
What people are saying about Cape /Altrad
Rob Rayner, Chair of the AVSGF said: "Cape's asbestos products are responsible for many deaths. They are in many of our schools, hospitals and other public buildings, and so will continue to expose people to asbestos. Any donation by Cape towards medical research needs to reflect this devastating impact on so many people's lives. It needs to be a game changer for mesothelioma research. Asbestos victims need to be given hope that one day there might be a cure for this terrible disease."
Ian Lavery MP, Chair of the All Party Parliamentary Group on Occupational Safety and Health, said:
"Cape's asbestos products put people in harm's way, with devastating consequences. A significant
donation to mesothelioma research would go a long way to atone for what they did."