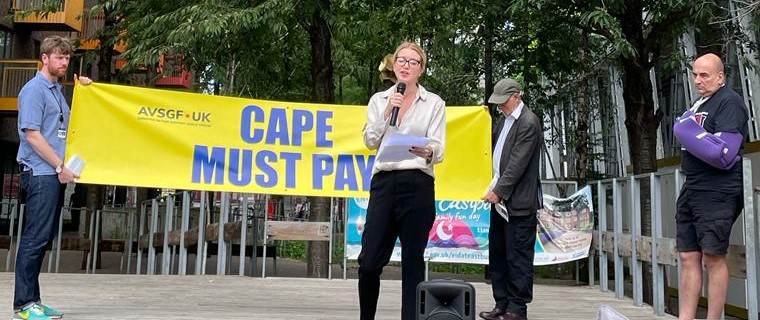 Last Monday members of the UK Forum of asbestos support groups visited the memorial to employees of Cape who have died as a result of exposure to asbestos in Cape's factories. The memorial is in Barking, where Cape had one of their factories until the 1960s. They were one of the leading manufacturers of asbestos products.
The picture shows members of the Forum at a wreath laying in memory of those who died. The gathering was addressed by Shelly Asquith, the Health, Safety & Wellbeing Officer for the TUC.
The visit to the memorial was part of our campaign to draw attention to Cape's responsibility for helping to cause an epidemic of asbestos related diseases. Each year more than 7,500 people die from the effects of inhaling or ingesting asbestos fibres.
We want Cape to contribute £10,000 towards medical research. Cape caused much of this tragedy so we believe Cape must pay.