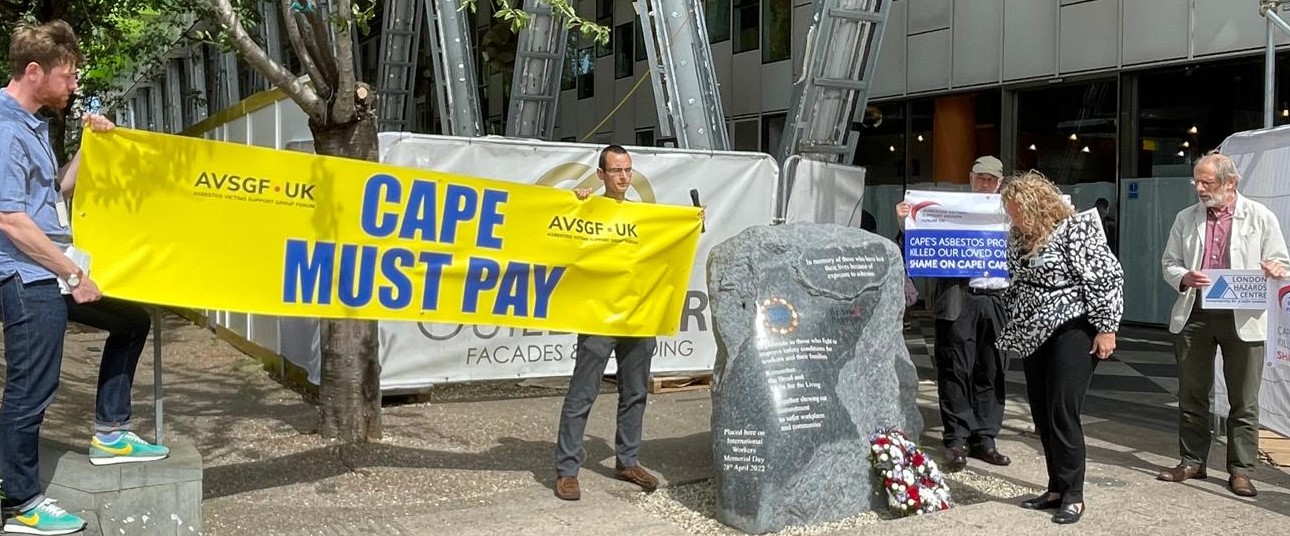 In the fifty years to 2021 more than 60,000 people have died from mesothelioma after being exposed to asbestos. A great many of those victims were poisoned by asbestos products made by Cape. Last Monday representatives of the UK Forum of Asbestos Victims' Support Groups gathered at the memorial to those who have died from asbestos exposure after working for Cape to make the products. But the harm doesn't stop there, because those products were installed in buildings all over the UK. And this continued for twenty years after Cape knew that the products were a serious risk to health and safety.
Representatives of the Forum are pictured at the wreath laying ceremony which was watched by their supporters. They then went on to Parliament to continue our campaign to persuade Cape to pay £10 million towards medical research into better treatments for mesothelioma. The wreath laying was part of our Cape Must Pay campaign.
Between 1968 and 2021 60,698people died from mesothelioma after being exposed to asbestos fibres*. The youngest victim was under 9 years old and was probably exposed to asbestos fibres in the dust brought home from work on their father's clothes. They died in 1973.
At the time people say they sometimes rode home on the bus with their overalls covered in asbestos dust. No one told them this was dangerous even though Cape knew perfectly well about the risks that asbestos posed.