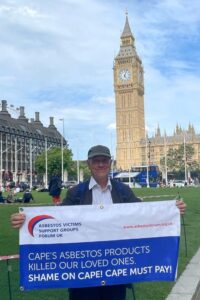 On Monday 10 July the National Forum of Asbestos Victims' Support Groups took the Cape campaign to Parliament. Our manager, Neil Bishop, is pictured with our Cape Must Pay banner on Parliament Square in front of Big Ben.
A number of members of Parliament came out to meet us and others signed the Early Day Motion in support of the campaign. Please encourage your MP to do the same.
If you would like to join in the campaign to persuade Cape to pay £10 million towards asbestos research there is still time for you to join next Monday's demonstration. This will take place outside their UK headquarters in Warrington. Please ask Neil for details.