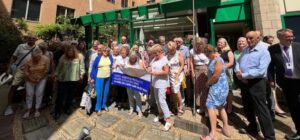 Some of our supporters were pictured with our #capemustpay banner on Action Mesothelioma Day in #Birmingham by Fozia Hussain from the Asbestos Law Partnership. The banner reads, "Cape's asbestos products killed our loved ones. Shame on Cape. Cape must pay."
Why not demonstrate outside Cape's head offices?
If you feel strongly about this it's not too late to join a demonstration next Monday outside the headquarters of Cape's parent company Altrad in Warrington. Please contact us for further details.