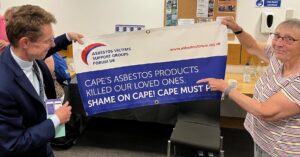 Action Mesothelioma Day in the West Midlands was a big success. More than sixty people gathered at the Priory Rooms in Bull Street, Birmingham, where we were joined for part of the afternoon by the region's mayor, Andy Street.
A full report and more photos will follow, but for the time being we wanted to share a picture of Andy posing with our banner calling on Cape to pay £10 million towards the cost of mesothelioma research. This is a chance for them to recognise the part they played in suppressing vital information that warned of the deadly hazards posed by the products they were making.
Andy is pictured holding our Cape Must Pay banner (#CapeMustPay) with our out-going chair Yvonne Washbourne.