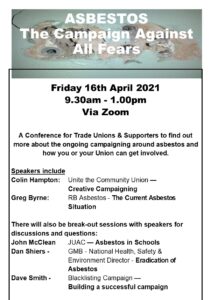 Find out about the ongoing campaign to remove asbestos from buildings in the UK. We'll tell you how you or your trade union can get involved.
The speakers will explain the threat from asbestos in buildings and how it can be eradicated. There will be a break-out group about the campaign to remove asbestos from schools, where it is a danger to all staff and children.
Our speakers will also tell you how to build a successful creative campaign that raises awareness of the issue and gets things done.
We're bringing together  lot of seasoned campaigners, so this is not to be missed.
To book your place and find out more go to: Asbestos Sum of All Fears Flyer April 21
This event is being promoted jointly with the Derbyshire Asbestos Support Team and SARAG, the Yorkshire & Humberside Asbestos Support Group. It follows our successful webinar last year about the real and present dangers posed by asbestos, which was over-subscribed. Book early this time to avoid disappointment.
The event is sponsored by Awards For All and the Lush Charity Pot.
Photo by J. Kelly Brito on Unsplash