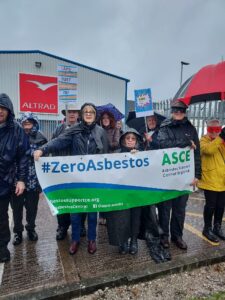 Members of our Butterfly Group are pictured holding up our banner last Friday. We are standing outside the headquarters of Altrad in Warrington. We were demanding that "Cape Must Pay" for medical research. This is to begin to address the harm they did by selling products that contained asbestos.
According to the HSE, more than 7,500 people each year die from asbestos related diseases.
The Butterfly Group supports people who have lost a loved one to an asbestos realted disease – partners, parents, children. It also campaigns for Zero Asbestos.
Photo by #ARCAidThriftStore in #Dudley