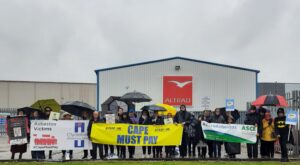 Despite torrential rain intrepid protestors gathered outside the offices of Altrad, Cape's parent company, in Warrington on Friday 30 September. Some of them are pictured here.
£10 million would be a good start
Neil Bishop, the manager of Asbestos Support Central England, says, 'We are asking Cape to acknowledge the great harm that it has done in the past. For many years the company sold products containing asbestos when they knew that the fibres were dangerous to human health. They then spent a fortune trying to keep this secret. It's time they said sorry by making a substantial contribution to research into mesothelioma, one of the deadly diseases which their actions caused. We suggest that £10 million would be a good start.'
Cape know about our campaign but they've yet to respond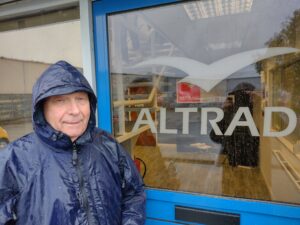 John Flanagan from the Merseyside Asbestos Victims Support Group, spoke to staff from Altrad before and after the demo. They acknowledged that they had seen our blog! He's pictured waiting to say goodbye to them at the door to their offices. In the background they can be seen descending the staircase. They asked us to contact their head office. We've already done this, and written to some of the directors. We're still waiting for a reply!
Neil Bishop says, 'The campaign is just beginning. We know this may be a long haul. But we're going to carry on protesting until Cape has the decency to make a generous gesture that really spells out how sorry the company is for what they did. Cape must pay!'