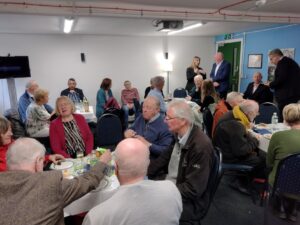 We've started meeting face-to-face again, although we're still taking a cautious approach to visiting people at home. On International Workers' Memorial Day, Thursday 28 April, we hosted a reception for our supporters at our new offices in The Warehouse.  About 30 people attended.
 Celebrating contributions to our work
One of our trustees, Neil Vernon, gave a short speech celebrating the hard work of our staff and volunteers over the lockdown period. He thanked all our donors, especially those who helped us make the move and buy much needed new equipment and data management software.
Sharing information
On Friday 20 May we took part in Asbestos in the Midlands, a conference at The Winding Wheel in Chesterfield for patients and carers affected by asbestos related diseases. Some of our own service users attended the event. One of the speakers was Dr Chris Huntley, an expert in asbestosis who works in or region at the Birmingham Chest Clinic and the QE Hospital.
The Butterfly Group
The Butterfly Group, for people who have lost loved ones to an asbestos related disease began, meeting face-to-face again some time ago. They are currently planning a boat trip along the canal nework in Birmingham on Monday 20 June. The trip, on board a luxury passenger narrow boat, will include a fish and chip lunch. For further details contact Neil at info@asbestossupportce.org.