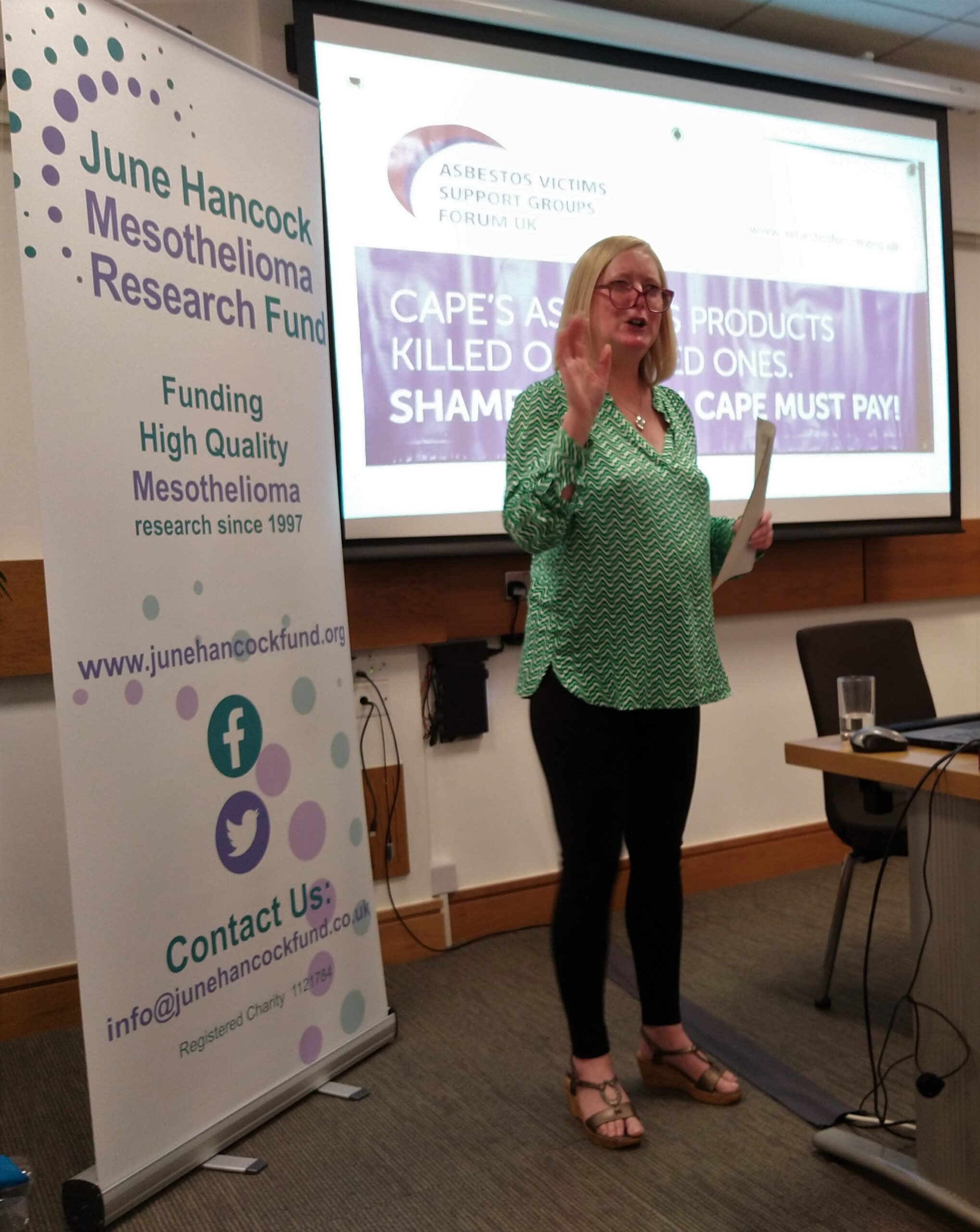 Our Action Mesothelioma Day event on Friday 7 August raised £1,645 for research into new treatments for mesothelioma. Mesothelioma is a cancer caused by exposure to asbestos. At the moment there is no cure and the existing treatments are only successful some of the time. It is often difficult to decide which treatment will best suit a particular patient. So the search is on to refine and improve the treatments available.
Why we chose the June Hancock Mesothelioma Research Fund
We decided to donate the money raised by our service users and their families to the June Hancock Mesothelioma Research Fund. The Fund raises money in memory of June Hancock. She died from mesothelioma. Since it was set up the Fund has raised more than £2 million.
During her lifetime June Hancock campaigned successfully to raise awareness about the dangers posed by asbestos fibres and to get compensation for people whose families had been exposed to asbestos by a factory near her childhood home in Armley.
Kimberley Stubbs addressed the meeting
The chair of the Fund, June's daughter Kimberley Stubbs, is pictured explaining to our service users how the money raised will be spent. Mesothelioma research is very expensive. The June Hancock Fund can only help to pump prime research. June Hancock funds initial investigations so that, if successful, they can attract more funding in future. The Fund also makes a contribution towards the overall cost of bigger research projects.
Why Cape Must Pay
The manager of Asbestos Support Central England, Neil Bishop, said 'That's why we want Altrad to donate £10 million towards mesothelioma research. A company which they own, called Cape, made enormous profits from asbestos products. Altrad itself is now profiting by removing some of the same asbestos which their own subsidiary company made. It's only right that they should help to fund this costly research. £10 million would be five times as much as June Hancock has been able to raise in 25 years of very hard effort.'
#CapeMustPay